Post by Max Ameeno Bacca on Dec 9, 2018 20:06:16 GMT
Parallax Industries is sold to AMC and gets restructured into AMC-Recycling giving AMC more sway and influence in the Galaxy
AMC-Recycling Deep Space Combat and Recycling Station at an undisclosed location in the Galaxy
In a dramatic turn of events, a former AMC member - Lucian Vax - who had started the Recycling Faction Parallax Industries, decided to move in another direction and offered the recycling giant to AMC to allow it to continue to grow and function in the Galaxy. AMC was happy to accept the offer and both parties agreed that the Faction would be restructured under AMC and a name change would occur to link the Recycling Faction to its new parent organization. Due to Galactic Laws and confinements in the transfer of assets being used as a Headquarters, the former Faction (Parallax Industries) will need to be closed to shift its Head Quarters to AMC held territory and then it will be relaunched as AMC-Recycling.
AMC-Recycling will function as the main recycling and resource re-acclimation subsidiary of the Alliance of Mercenary Consortiums [AMC]. It will be headed up by Recycling Magistrate Sophie Blaster with Hock Snwecks taking the reigns as the lead Recycling Foreman. Recycling Foreman Snewcks has been a long standing AMC member who has been handling all of AMC's recycling missions through Haven Corporation where he has been stationed for us for several years. He will now be able to operate directly under AMC's banners and we welcome him home with our continued gratitude.
AMC-Recycling has a vast Fleet of GRZ-6B Salvagers and Recycling Bulk Freighters loaded with gigantic Recycling Droids which will handle all possible recycling needs in AMC controlled territory. While these entities will not be available for hire to the general public, AMC-Recycling does hold multiple Deep Space Recycling Hubs which are equipped with some of the newest and most sophisticated technologies available, all housed in cutting edge Recycling Stations. Each of these Recycling Hubs are strategically placed near several Asteroid Belts in which interested parties can engage in Deep Space Combat against Bandits. These Hubs will be available to outside Governments, Factions and individuals looking to experience these activities on the fringes of civilized Systems. Senients will be able to decide whether they wish to disable and capture the Bandit Ships or destroy them into Wrecks that can then be easily hauled to the nearby Recycling Hub for conversion to Raw Materials for their future use.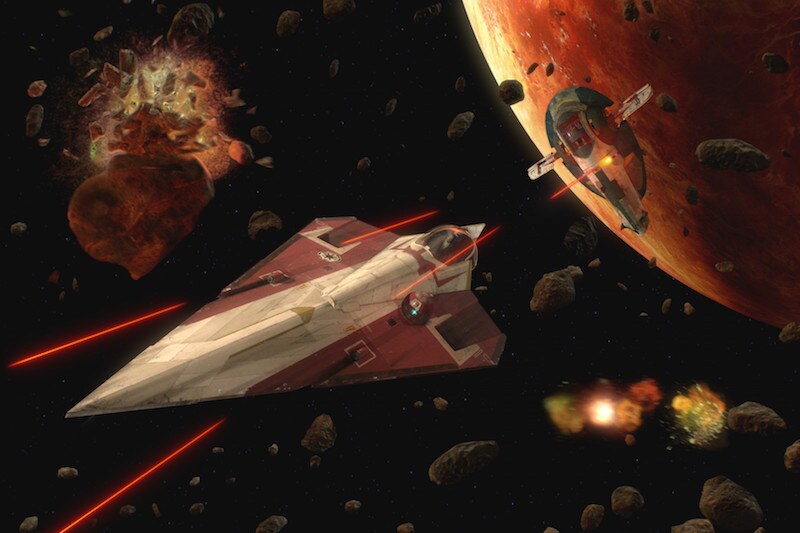 An enterprising individual in a Firespray takes on a squad of Bandits in an AMC-Recycling Deep Space Combat and Recycling Hub Asteroid Belt
AMC-Recycling will remain a "closed" Faction as its membership will be drawn from the membership of the Alliance of Mercenary Consortiums [AMC]. Interested parties can apply for transfer and reassignment to our Recycling Division, however, the utilization of AMC-Recycling's assets is available to all AMC citizens regardless of which other AMC Faction they are currently assigned to.
AMC-Recycling will also allow for interested parties to temporarily Faction Hop to AMC-Recycling if they wish to utilize their own equipment for their own recycling needs.
The addition of this Faction has once again widened AMC's footprint on the Galaxy and will allow for much greater control over our own recycling needs.